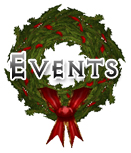 Looking for past events?
---
<calendar />
Recent events
(Older entries may be moved to past events page.)
If you want to make an existing page into an event, edit it and add the following to the end, substituting the correct date for "YYYY/MM/DD":
[[Category:Events|YYYY/MM/DD]]
To rename an event, go to its article and use the 'Move' tab. To delete an event, either delete the article itself, or remove it from the 'Events' category. You must be logged in to do these things.
Subcategories
This category has only the following subcategory.
Pages in category "Events"
The following 5 pages are in this category, out of 5 total.
Ad blocker interference detected!
Wikia is a free-to-use site that makes money from advertising. We have a modified experience for viewers using ad blockers

Wikia is not accessible if you've made further modifications. Remove the custom ad blocker rule(s) and the page will load as expected.