---
Horde | Blood Elf | Forsaken | Goblin | Orc | Tauren | Troll
---
For countless generations, the bestial tauren roamed the plains of the Barrens, hunted the mighty kodo, and sought the wisdom of their eternal goddess, the Earthmother. Scattered across the land, the wandering tribes were united only by a common hatred for their sworn enemy, the marauding centaur. Seeking aid against the centaur, the chieftain, Cairne Bloodhoof, desperate for help, turned to the strange green-skinned warriors from over the sea. Cairne quickly befriended the Warchief Thrall and the other orcs, and soon recognized that they shared a common love for honor and battle. For their part, the orcs and the Darkspear trolls that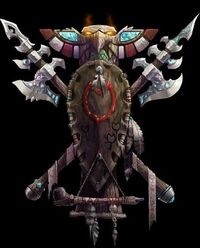 composed the Horde found much in common with the tauren. Each of these races wanted to achieve a more shamanistic culture, and the tauren, long versed in the lore of spirit and nature, were well-prepared to provide counsel and support to the budding shaman class within the Horde.
With the orcs' help, Cairne and his Bloodhoof tribe were able to drive back the centaur and claim the grasslands of Mulgore for their own. For the first time in millenia, the tauren had a land to call their own. For this alone, they were forever indebted to their orcish allies. Upon the windswept mesa of Thunder Bluff, Cairne built a refuge for his people, where tauren of every tribe were welcome. Over time the scattered tauren tribes united under Cairne's rule. There are a few tribes who disagree about the direction their new nation should take, but all agree that Cairne is the wisest and best suited to lead them toward the future. Helping the mighty Cairne in the duties of ruling his race are the Archdruid Hamuul Runetotem and the elder crone Magatha Grimtotem.
Although the Tauren have reclaimed their lands and battle alongside the Horde, not all is peaceful. The Grimtotem Clan tries to this day to usurp the rule of Cairne, plotting to overthrow his leadership.
---
Helpful Information
Racial Information for Tauren
Character Sheet Coding
All items (60)
A
B
C
D
E
G
I
J
K
L
M
N
O
P
R
S
T
W